Recently, we have talked on the best SEO tips for 2020 and found the need of writing a separate article with the best on-page SEO tips to optimize any site. And here is the article.
Nowadays, SEO is not just link building or buying an EMD (exact matched domain). It has gone beyond and a lot of other factors are in place. And if you want to rank your website in 2020, you must take care of all those factors.
Here in this article, we will be talking on some best on-page SEO tips to optimize any website. This can also be implemented on blogs, service sites among others.
if you are looking for an agency who can do white hat SEO for you, please check – https://whitehat-seo.co.uk.
Best on-page SEO Tips to Optimize Site
Although we are going to talk about some of the important ones here but there are a lot of those. And to get a perfectly optimized site for on-page SEO, you should check those additional factors as well.
Note: Please don't over optimize the site for the SEO. This can result in a spammy site for the search engine and might get hit by search engine updates.
Let's start!
#1 Optimize the content
This is the very basic key when it comes to on-page search engine optimization. Your content should be optimized for the search engine. But this doesn't mean user experience should be compromised here. Following are some of the key factors to look for while optimizing the content-
Keep Keyword in Title
With the help of the various SEO plugins, you can easily keep on the title which will be visible to users while getting on a website while others for search engines. Let's say you're writing the content on making money online ideas. So, you can have the following two variation in the titles-
User Title- Struggling to make money online? Check out these ideas to make your next $100
Search engine title- 10 Best Money Making Ideas for websites
As you can see while the search engine title is optimized for the keyword, the user title is more like personalization. And this works!
Below is the example of an optimized content in WordPress using Yoast SEO WordPress plugin-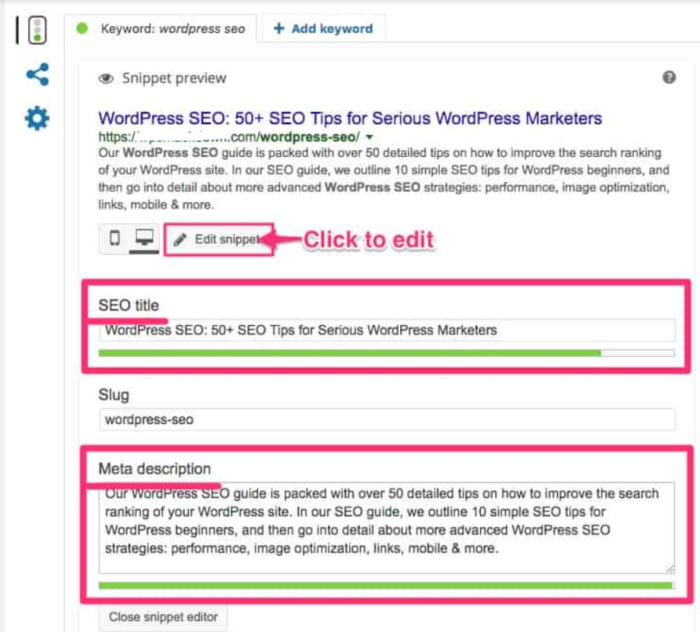 Add Proper URL and Meta Description
Apart from keeping the main keyword in the SEO title, you should also keep the main URL in the URL and meta description. As you can see in the above image, the article is optimized for a keyword- WordPress SEO.
Again, just make sure that while optimizing, it should not be over-optimized. Like, place the keywords in the main description, not more than 2 times. Although just a single entry is preferred.
#2 Optimized the site for Mobile
This is no longer secret that browsing through mobile is preferred nowadays. As per the report by social marketing company Hootsuite, in Q3 2019 itself, more than half of the internet users were accessing the internet using mobile phones.
So, when more than half of the time users are accessing the internet via mobile, how can you ignore the device. Your site should be fully responsive to be accessed through mobile phones. There are many websites using which you can do such mobile-friendly testing like- Google Mobile Test and Bing Mobile Test
And more. I made a quick check for TechiViki.com and check the result below.

#3 Voice Search Optimization
Along with the mobile friendly site, your website should be optimized for the voice search as well. And this feature is not dependent on the niche of the site. No matter if you're running a blog or ecommerce site, it should be optimized for voice search.
Following are the two major factors which will ensure the voice optimization-
Focus on long-tail keywords
This is very important as when we speak something it becomes usually longer than what we type. So, while writing the content for your site, try to focus majorly on long-tail keywords.
Structure Your site
This is another factor you should look for. Your site should have proper navigation, content structure, and more. The categories and sub-categories should be well aligned.
#4 Reference Links
Reference links are the links which are added as an additional link in the content. For example, here I am writing for on-page seo tips and tricks and so, if I have written any other content where I wrote related content on the site earlier, I can add that link here as a reference.
Reference links can be either internal or external. Just look for the reference link and if you think that will add value to your visitors, add that link as a reference.
#5 Add Multimedia
You must have heard that an image speaks 100s of words!
Yes, that's correct and a video talks about 100s of images as well. The point is try adding images and videos in the content as required. It should not be you're adding unnecessarily but wherever required, try adding those to give value to the users.
Adding multimedia in the content is not only helping the readers but also you by getting more users on the site, keeping them for longer, and improving your ranking.
Final Words
These were all about 5 best on-page SEO tips to optimize any website. No matter you are working on a blog like TechiViki or a site, you should follow these strategies to get rank quickly.
What are your thoughts on this?
Reference:
search.google.com/test/mobile-friendly

bing.com/webmaster/tools/mobile-friendliness

hootsuite.com/newsroom/press-releases/digital-2020-social-media-use-spans-almost-half-global-population