Are you looking to stop other devices to use your WiFi network, then this article on WifiKill for pc download is for you.
You can easily kill the devices which are using your WiFi using WifiKill software for PC. In this post, we will discuss what is WifiKill, how to download WifiKill for PC and how to use WifiKill on PC.
Keep reading to know more about the following-
What is WifiKill for PC
Features of WifiKill for PC
WifiKill for PC download
Requirements to use WifiKill on PC
How to install and use WifiKill on PC
What is WifiKill for PC?
WifiKill is an application which you can use on your android devices to stop others to use your WiFi for PC. It is one of the best WiFi controller app for any android phone. You can download the WifiKill app from Google Play or you can also download from the link given in the later section. The latest version is 2.3.2 and I have provided here the APK of the software.
WifiKill was developed by XDA app developer and has been proven as one of the best apps to reduce bandwidth misuse of the internet. You can also monitor the data uses of your connection by various devices connected. Here are the details of the WifiKill APK software-
Package Name: Netcut for PC.rar
Version: 2.3.2 (2032)
Size: 2.46 MB
Supported OS: All versions of Windows operating system
MD5: f54ad796016ec35bceefde9fc5e10cc7
There is only one issue while downloading and installing this WifiKill software on your android device. It requires the rooting of your android phone. And the drawback of rooting is, your warranty will no longer be valid.
And so, I personally don't suggest rooting the android phone. The alternative is, to use NetCut. You can easily install and operate Netcut on any windows system.
And that is the reason, in this post of WifiKill for PC download, we have tried to cover the steps to download and install NetCut WifiKill on Windows PC for free.
NetCut for PC Overview
Netcut is another free software for windows system that can help you kill any device from using your WiFi connection. The software is run perfectly on the new operating systems like- Windows 10, 8, 8.1, and 7.
On the internet, you may find much WifiKill software for PC but this Netcut WifiKill software for PC is the best so far. And the best thing is, it's of size 2 MB and completely clear without creating any problem for other systems.
WiFi Kill for PC can be helpful in many ways including-
Let's say you have installed a WiFi router on your school, home, shop, etc, and you want to protect it from misuse then WifiKill is the solution for you.
You may kill the connected devices from your private WiFi connection
You can make an eye on the data uses by the active devices
Note- We are sharing this WifiKill for PC download only for educational and awareness purpose. Please don't misuse it.
NetCut WifiKill for PC Features
I have already told that out of all available WifiKill for pc download, NetCut WifiKill is the best. Let's see some of its features so that you can use the most.
The software also comes with an anti-WifiKill feature which will ensure that your connection is not being killed by anyone else
WifiKill for pc is 100% safe, free and virus free
This software also has a Wireless analyzer tool which helps you scan the IP Address of connected device to the WiFi
You can kill all or a few of the connected devices using WifiKill software
It also allows you to get the details like IP address, MAC address, etc, of the connected devices
Requirements to use NetCut WifiKill for PC
Before you move to download WifiKill for pc, let's check if you have the requirements needed in your system to install this software.
But the good thing is, you don't need anything heavy for this software. Just you should have windows system. It doesn't worm in MAC or Linux operating system.
You should have Microsoft Windows operating system with the version either of- 7/8/8.1/10
NetCut WifiKill for PC software (link is given below)
The device which you want to kill should be connected to the same wifi connection where you are.
That's all!
These were some of the simple requirements for using WifiKill for PC.
Download NetCut for PC
WifiKill software for PC is simple software and a lightweight as well (just around 2MB). You can download this from the link given and install it like you do for any other windows software.
We are also listing the steps need to follow while downloading WifiKill for pc and installing WifiKill software later in this post.
How to install NetCut WifiKill for PC
As you have downloaded WifiKill for PC, let's understand how to install the downloaded software. Just follow the below steps to install the software.
Locate the downloaded software in your PC. Ideally, it should be in your system download folder
Extract this file and you will find an installer file there
• Now simply double click on it and it should open a dialog box like below-

• Click on next button and proceed further
• This might take a few moments to install and you can get the screen like below

• After installation, the software should show two options-
1. Restart computer now
2. Restart later
• You should restart it now so that the changes will be reflected quickly and correctly
• Once the system is rebooted, open the taskbar navigation and you will find the scissor icon of Netcut WifiKill software

• Click on it and wait for some time till a new window open and will show you all the devices connected to your WiFi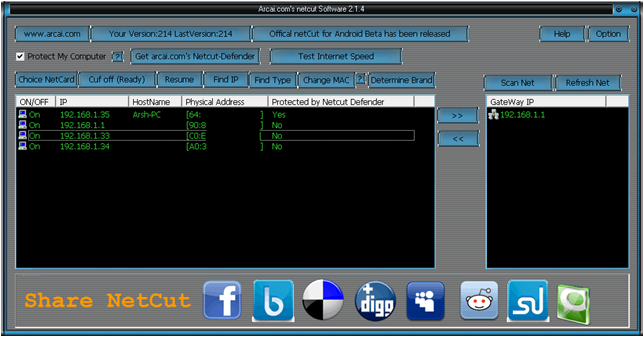 • Once scanned, the tool will show you the MAC address of all the connected devices
• Now click on the MAC address and click on the cut icon which you want to kill
• In the same way, you can kill the other connected devices as well
Wrapping it up!
These were the detailed guide on WifiKill for PC download, install, and use. You can easily kill the connected devices from your WiFi network.
Do try to stop the misuse of your internet connection and keep your network safe. And let me know if you face any kind of issues while following these. Please check our software section for more such posts.