Have you thought when you make a call to any call center or customer support, they say that your call is being recorded?
Why like that?
What they do with such recording?
If your answer is No or if you don't have much idea about the call marketing, keep on reading. We are going to talk about this in this post.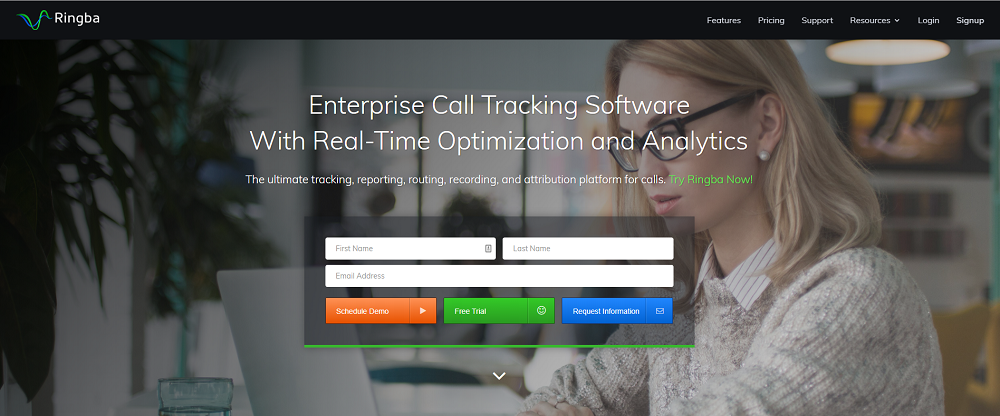 Call marketing is also a part of digital marketing where we follow and make our market based on the call received or dialed by our team. We analyze those calls and find the best insight from it which is again used in many forms. If you are thinking what all you can do with such recording and insight, here is the answer-
Analyze the call and based on that educate/train your support team
Get the insight and pitch for inbound calls
Improve your service
Look for the demand of customers and make your products/offers accordingly and much others you can do with it.
But managing the calls and doing the analytics on top of it is not that easy. It needs great effort, technology-driven platform, and infrastructure to get the best.
But the best thing is, you have many tools and technologies using which you can manage the calls and do the call marketing easily and one such tool is Ringba. Here in this Ringba Review, we will see all the aspect of the call management.
Ringba Review- What is Ringba Software?
Ringba is an enterprise call tracking and management platform helping businesses to drastically improve their call business ROI. Their inbound call tracking software helps you with the real-time optimization and doing analytics on it so that you can get best out of it. It also helps you with the tracking, reporting, routing, recording, and attribution platform for calls.
Ringba allows you to see live calls by account, by the target, by the campaign, by publisher and more which gives you the ability to change and optimize your campaigns as they happen with robust reporting tools, detailed analytics, and call recordings. You can even start an entire Pay Per Call network with sub-accounts for buyers and publishers! This opens up new doors for rapidly scaling your business by working with partners to generate more calls and sell overflow traffic.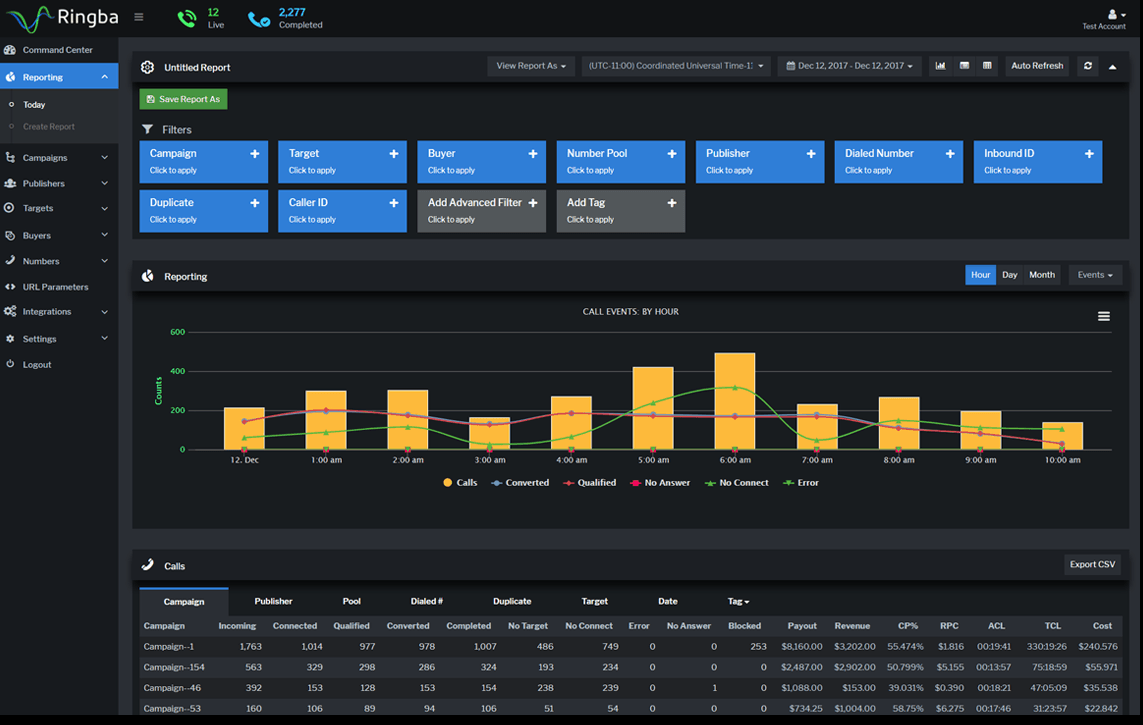 Ringba is the best solution for any company involved in calls for recording calls, tracking it, and data management. It provides a next-generation platform where you can get the details of the sources of the calls, check the information about the callers generated from the internet marketing, manage your products' affiliate marketing network, control the call flow to your support center, pay per network, call center and more.
No matter what size of business you are running, Ringba can be the best fit for it. Just contact their stellar team and they will help you get up and running in no time!
Here are some of the silent features I personally experienced after going through their software-
Tracking the source of inbound calls
Learn detailed information about your users opening doors to new opportunities
Optimize and improve your advertising ROI
Create new ways to generate business
Reduce abandons and wasted opportunities
Manage call flow for multiple locations anywhere in the world
Manage compliance and regulations
What can Ringba do for you?
Ringba as an inbound call tracking and management platform is very flexible and versatile. Getting a new campaign set up with tracking numbers, routing plans and even custom IVRs takes minutes.
Running click-to-call campaigns with Ringba gives you detailed analytics about how your calls converted so you can focus on the keywords that drive the most revenue. And so, using these data you will be able to manage the campaign in a better way.
Real-Time Reporting & Analytics
Ringba software will be available throughout your website and will capture as much data possible to give you immediate access to the critical information which in turn you can take a critical business decision.
Again, the versatile feature of the reporting platform allows you to further dig down to the different segment for the micro and macro management.
Call Routing
When you are defining the campaigns, and add specific targets and target groups, prioritize the routing, cap volume with extremely flexible timetables and restrictions, route calls by user data such as device, location, ISP, browser, referring website, landing page, caller ID information, and most importantly Target performance.
Here the target is the user who buys or sell the calls at Ringba platform. With these details along with the details captured by Ringba as we discussed above, you can create the most profitable campaign. This will be both in terms of time and money.
Custom IVR
Interactive-Voice-Response is custom menus for qualifying for your callers and sending them to the target that can best serve their needs. Ringba gives you the ability to create personalized menus for your campaigns ("Press 1 for sales, Press 2 for support, etc). This opens a whole new world of opportunities for running even better call campaigns and automating your call flow with Ringba.
Number Pooling
Number pooling at Ringba is basically a group of numbers used for tracking. But before using it, you need to verify the pool which is similar to how you verify Google Analytics or Webmaster. All you have to do is, just copy the dedicated tag and add it to your head tag on the website.
Ringba is able to track and manage the toll-free numbers or localized phone numbers in over 80 countries giving you the flexibility to run and optimize your campaigns in the most profitable way, almost anywhere.
Publisher Tracking & Management
Partner management is again one of the most beneficial features a business need. Ringba allows and gives your publisher access to use the tracking and reporting platform. They will be able to see the similar kind of reports and data as you can.
By doing so, you are giving them an extra edge where they can check and analyze all kind of data and campaign without any of your intervention.
Call Centre Solution
Managing a call center or support center is a tough job but Ringba is dedicated to helping you with it. It allows dynamic routing plans for your campaigns based on schedule, concurrency, volume caps, productivity, and performance.


It tries to eliminate the abandoned case by monitoring the agents and automatically route the overflow to buyers and marketplace.
Now as you know how helpful Ringba is for your business, let's talk about the pricing plans and integrations.
Ringba Pricing and Plans
Here are the different plans and pricing offered by the Ringba. Depending on your size and niche of business, you can select the plans as below.

Ringba provides custom pricing based on call volume. Connect with the Ringba team to discuss your requirement.
Conclusion
Ringba is a must-have tool for all the business involved in a call in any way. It offers one of the best call tracking and reporting software. Calls are a valuable asset for any company and with Ringba, it is converting it to beneficial business.