Snovio Review: If you are a marketer, then you must be aware of how important email contacts are?
However, finding high quality and targeted email contacts is not easy. It takes a lot to get quality email leads through traditional means. People collect email addresses by advertisement, or by promoting through multiple mediums, all these processes require a good budget. After all this, there is no guarantee you will get the quality email contacts you require.
The better way is to use an email extractor. Again, there are a lot of email lookup tools available, but not all are that useful.
You need to be careful when selecting an email extractor tool for capturing the quality. For some time, I have been using a leading email finding tool called Snovio and can say they are one of the most helpful tools I have used. Here in this Snovio review, we will capture the different aspects of what this service offers.
Snov.io Review- What is snov.io?
Snovio is a leading email extractor and marketing tool. You can find the right email id of the right people from various platform easily. It finds the emails from the specific domain and social media sites like LinkedIn. The company has its own dedicated database of people, professionals, and companies. Its Boolean search Linker is very useful when you are looking for specialists in a specific field.
You can also clean and verify your existing email contact list to ensure only valid and active email addresses remain on your list. Let's discuss more features of the Snovio in the next section of this Snovio review.
Also Read: Best URL Shortener Tools
Snov.io features
Here are some of the unique and helpful features of the Snovio tool. First, you need to download and install the chrome extension. Once done, signup and login to the Snovio dashboard. Here you can use all the features.
Finding emails from the domain
You can find the email addresses associated with specific domains. This feature will be quite helpful when you are targeting certain companies for business purposes or looking for a job in a particular company. By doing so, you can easily find the targeted email address of the specific person and reach out to them directly. To do so, just visit the Snovio dashboard and enter the domain name for which you want to get the contacts or enable the extension on the website where you want to find the email addresses.
LinkedIn Email Search
As I've mentioned, you can also find the email addresses from social media. For example, if you are looking for the correct and active email contact of the recruiter of a company, just locate their LinkedIn profile and then enable the Snovio extension and it will show you the email id associated with it.
Send Emails for Free
Once you have gathered the email contacts from different sources like we discussed above, you can send them emails also from the Snovio interface itself, this is a free service. This is the reason, Snovio is not just an email finder tool but also an email marketing tool. Once you have added the email address to Snovio, you can draft the email and send them for free.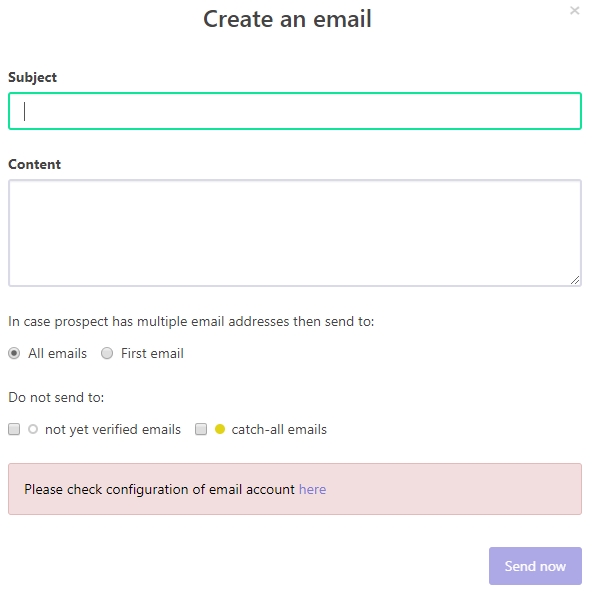 Company Profiles
You can check company profiles from the Snovio interface and get all kind of details. The details it will show contain the company information, contact details, and email addresses associated with the company staff. Based on these details, you can decide which email contacts you'd like to use.
Technology Checker
If you want to know the platform used by your competitor, then you can also utilize the Snovio tool. Just visit the technology checker section of the Snovio tool and enter the technology name and it will show you different websites using that technology. Then again you can filter for better understanding.
They are also launching the Snovio Marketplace where people can connect freelancers, data researchers, marketing experts, and employers. You can also verify your existing list of emails to make sure those are active and still beneficial for you.

Pricing and Plans
Snovio offers very flexible plans for the users and so depending on the need and size of your business, you can select any of these.
As you can see with each plan you are getting credits and you can use those credits as per the below-
Search emails for a domain- 1 credit
Get Emails from LinkedIn profiles- 1 credit
Upload and verify emails- 0.5 per email
Email Sending- Free
Conclusion
Snovio is a very good tool for marketers, general people, and companies. All those who are looking for targeted emails to get their work done, Snovio is for you. Hope you got a clear idea from this Snovio review and found this tool is as helpful for you as it is for me.
They are also offering a free plan where the company is giving you 100 free credits and you can make use of these credits to get the best idea of the tool.