Password manager software is the new need for the hour. These software's are considered to be an essential tool for the internet as they help you to make signing into accounts, getting through checkouts and remembering bank account information much easier while increasing your security.
Even though there is no dearth for paid versions of such software in the market, getting your hands on a free version with all the required features is an even difficult task.
In this guide, I have tried to enlist the top 10 of the best free password manager software that won't cost you a dime. Let us first understand what exactly is a Password Manager software and why is it so important to install one-
A Password Manager stores your password in an encrypted vault so you can access them quickly and whenever desired.
It does more than storing just your login information- you can store your credit card details, billing addresses, social security information and much more.
Whenever any website requires information, it automatically searches through the vault and fills in what you need. It is a huge time saver when you log onto the website and check out online stores.
10 best free password manager software
Now that we have understood the basic need of a Password Manager software, let us look at some of the best ones out there. These are some of the best free password manager software.
1) LastPass
LastPass is easily my first choice when it comes to the best free password manager software. It comes with several core functions of a password manager software such as multi-device sync and an unlimited number of entries. This is a browser-based software and hence, can be operated on any machine that runs Chrome, Firefox or Internet Explorer.
You can access your vault on any device even, as long you have the required browser extension installed. It offers impressive family and business plans, too. You can get six premium licenses at the price of two. It offers excellent security with unlimited entries.
[maxbutton id="2″ url="https://lastpass.com/create-account.php?premium=1″ text="Start Free Trial for 30 Days" ]
2) Sticky Password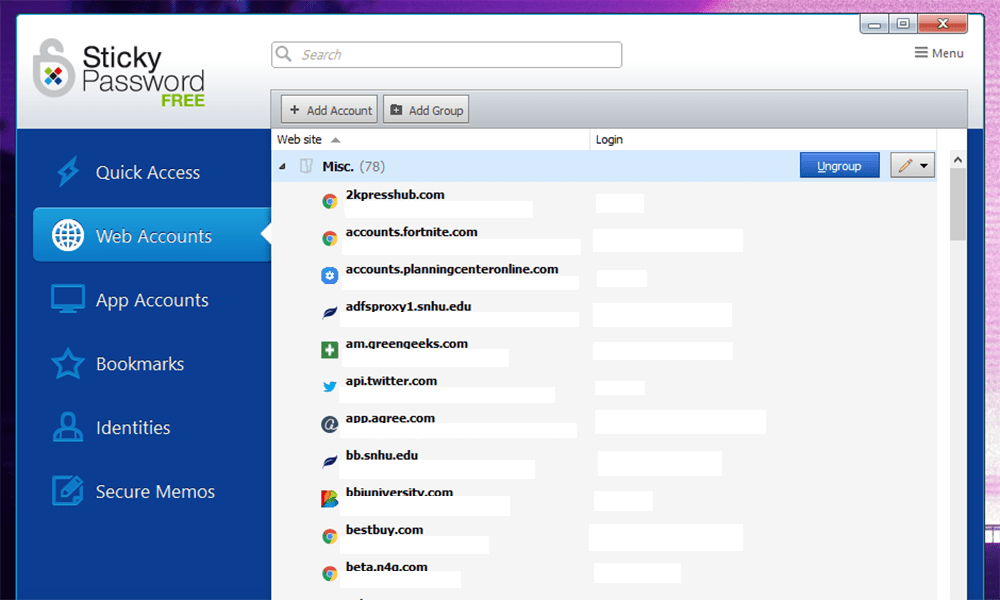 Stick Password is another easy to use a free password manager app with a generous free plan. You can easily get full access to the service on a single device and as a simple solution for desktops, it is an excellent option. You can export your data to a USB device too if you'd rather sync manually. Sticky Password prompts users to import browser passwords during install and it can import from Chrome, Firefox, and Mozilla.
With the help of its paid plans, Sticky Passwords donates a portion of your subscription towards saving the endangered species by donating to the Save the Manatee Club. It, therefore, has a customizable interface and can be exported using a USB device.
[maxbutton id="2″ url="https://www.stickypassword.com/thank-you-for-downloading-sticky-password" text="Download Sticky Password Free" ]
3) RoboForm
RoboForm is a freemium password manager software helping you manage password efficiently. Though the free version of this plan is decent, the paid version is excellent. It is still missing a few features though. If you need to store a long list of passwords on your device, then RoboForm is not a bad option.
It lacks multi-device sync and it auto-fills all the blank areas on your desktop whenever required. You can also share entries with other users as many times as you like. RoboForm never sees or stores your master password, so it can be reset even if you need to. It also does not provide cloud backup which can be a letdown.
[maxbutton id="2″ url="https://www.roboform.com/dist/RoboForm-v8-Setup.exe" text="Download RoboForm Free" ]
4) Dashlane
Dashlane is another best free password manager in 2019. The free plan of this software is decent, however, just like RoboForm, the paid version is excellent. It's costly to upgrade, however with the added features of single point virtual private network and the dark web-monitoring features give you a good deal.
The universal password changer is one of the best features on this software as it automatically changes your password on a supported website, making it an important practice to be followed. It has several features such as single point VPN, cloud-backup, multi-device sync, dark web monitoring and much more.
[maxbutton id="2″ url="https://www.dashlane.com/download#downloaded" text="Download Dashlane Free" ]
5) Zoho Vault
Zoho doesn't need any introduction as they've made a place when it comes to CRM and ERP. Zoho Vault is one of the best free password manager software that has an amazing free plan for its users. The password manager is browser-based and can be accessed anywhere, even without the extension installed.
Entries also support file attachments up to 1 MB in size and are classified for business or personal use. You can sign up for a free account and get a free trial of one of Zoho's business plans, though it is unlikely you'll use the extra features.
[maxbutton id="2″ url="https://www.zoho.com/vault/signup.html" text="Get Zoho Vault Free Now" ]
6) KeePass
With KeePass password manager, users can upload as many passwords as necessary onto this application it has a simple and clean user interface. In fact, the makers of this application have also not shied away from displaying their accolades on the websites page.
It has clearly been a boon for several users using its password management database. It also allows you to download the extension freely and there are really no paid-only features of the software, unlike several others.
[maxbutton id="2″ url="https://keepass.info/download.html" text="Download KeePass Free" ]
7) Thycotic Secret Server
With the free edition, you can provide up to 25 members of your team on-premise storage of up to 250 passwords. Signing up to use this software also allows you to access the Thycotic forums where you can engage with the community and discuss issues related to service and password protection with other like-minded people.
You can easily opt for a 30 day trial of the expanded software, with the premium plan offering features such as enhanced auditing, tech support with add-ons that include disaster recovery and UNIX protection.
[maxbutton id="2″ url="https://thycotic.com/solutions/free-it-tools/secret-server-free/" text="Try it for Free" ]
8) Passpack
The 'free-forever' version of this software allows you to gain two-factor authentication for up to 100 passwords, as well as the ability to have unlimited passwords shared with the user by other parties. You can also add notes to the passwords.
It is an Italy based software with compatibility on several of the major web browsers. In addition to all this, it also provides a 30-day money back guarantee on your purchase if you are not satisfied with the product.
[maxbutton id="2″ url="https://app.passpack.com/#/register" text="Get Passpack Free" ]
9) Splash ID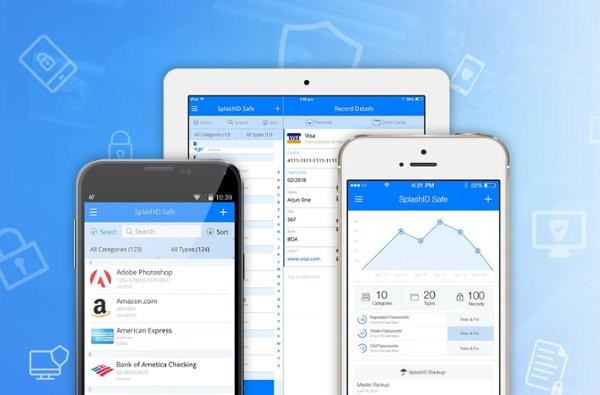 SplashID boasts of a customer base of more than 1 million with clients such as Adobe and the National Institute of Health Sciences. The company's latest release, the SplashID 8, provides you with smooth encryption of all your passwords, using a master password of your choice.
With the free edition, you receive a simple but powerful tool for password management. If you happen to be one of those, who have several accounts online or offline, then this software will surely satisfy all your needs.
[maxbutton id="2″ url="https://splashid.com/downloads" text="Download SplashID Free" ]
10) True Key
This software has been developed by McAfee, which also created the anti-virus software, for its users. It provides the full set of features and cross-device synchronization with all free-downloads. It is extremely convenient, also offering certain layouts that you could use only at work. Hence, it is another amazing password management software you need to look out for.
[maxbutton id="2″ url="https://www.truekey.com/downloading" text="Download TrueKey Free" ]
Conclusion –Which is the best free password manager software?
Which best free password management software will you opt for? Let us know down in the comments section, and as always as thanks for reading. Also, if you're using any other free password manager software, please share in the comment.
Recommended Reading:
Best Local SEO Improvement Tips