Have you come across the short URL something like goo.gl?
Well, I am sure you must have. These are the short URL of the original long URL.
Usually, people don't prefer to use long URL while sharing it with someone, especially on social media. In such situation, bets URL shortening sites help a lot.
These sites help you make the long or original URL small and share with anyone. Apart from these, many URL shortening sites also provide you an opportunity to earn from it.
Although there are many URL shortening sites but many have issues. Usually, you will find people complaining about the URL shortener ad networks. These issues are typically-
Their shortened URLs are banned on multiple platforms reducing the opportunity to earn from it
Many such network either doesn't pay on time or doesn't pay at all
Their accounts get banned frequently and many such
I was also looking for a legit URL shortening ad network and came across ouo.io which is an excellent URL shortening ad network for both publisher and advertisers.
In this ouo.io review, I will share the details about the network and will also share the features of ouo.io ad network.
ouo.io Review
ouo.io is a URL shortening ad network working globally. They allow you to short your long URL and earn from it. When I say earn from it, actually when you will share the shortened URL and someone will click on it, they will be shown an ad for few seconds and you will earn from it. So, basically, the more number of hits you'll have on your shortened URL, the more you will earn.
Now how much you will earn depend on the CPM rate shared by the company. And you will be happy to know that ouo.io has quite decent rate for each country. Definitely, it will be more for the tier one countries followed by tier 2 and 3.
How you can earn from ouo.io by shortening URL?
This is the basic question everyone asks!
Well, let me answer you here. Like with any other URL shortening ad network, with ouo.io also, there are there simple steps as explained below-
#1 Shorten the URL
Here just paste the long URL at the ouo.io interface and get the shortened URL. This is a pretty straight forward method and you can do like below with or without login. Please note, if you are not logged in, you won't earn for any click.
Now you have the shortened URL and you just need clicks to earn money. For this you need to promote the shortened URL everywhere you can. Here are some working tricks to get more clicks-
Promote through social media like Twitter, Facebook page and groups, LinkedIn, or any content sharing sites.
Send emails to all your subscribers or audiences
You can also comment on others' post and include your shortened URL
Make sure to write engaging title while sharing the URL for maximum clicks.
#3 Earn Money
And now depending on your traffic location and clicks, you will earn money. You can find the location wise rate in the next section.
Payout Rate Offered by ouo.io
Here is the payout rate offered by the ouo.io. As communicated earlier, the payout rate depends on the traffic location and is for 1000 views.
The best thing is for any location, you will be paid at least $1.5 for 1000 views.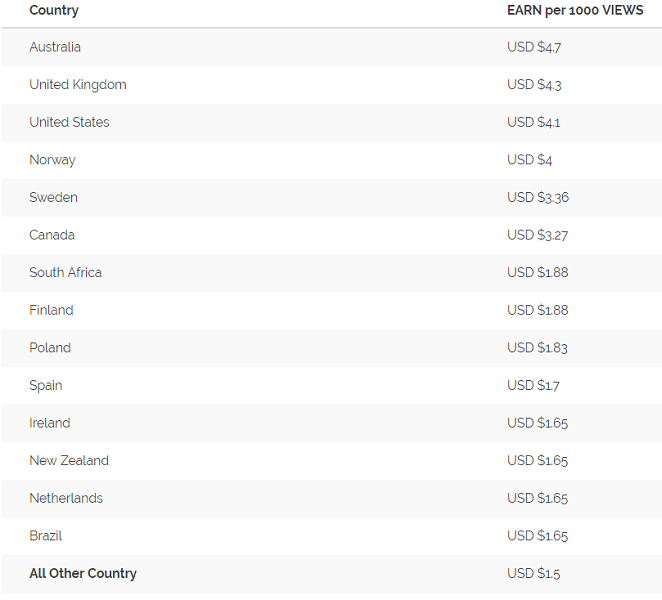 Ouo.io Dashboard
Ouo.io offers you an excellent dashboard which will give you the complete insight about your campaigns. It will have the details about your earning, clicks etc.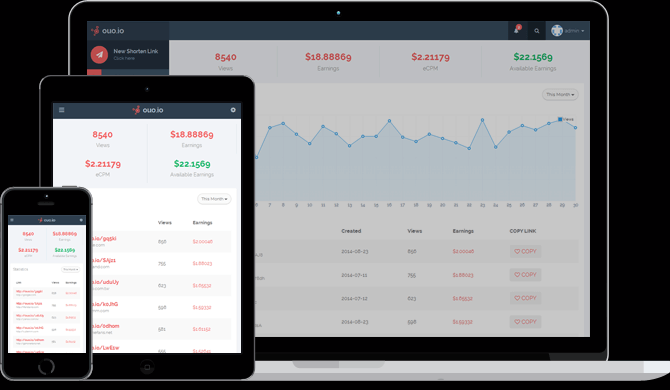 What do others say about ouo.io?
Here are some of the feedbacks shared about ouo.io about their experience-

Conclusion
I hope you got a good idea about the URL shortening network ouo.io. Ouo.io is one of the leading URL ads shortening network.
If you don't have the traffic from the top countries then also you will earn $1.5 for 1000 views which is quite decent. If somehow you will be able to manage some viral kind of topic or video and manage to earn around 50k view then you can earn at least 50*$1.5= $75 which is a good amount.
So, join the ouo.io network today and start earning money. You can follow the below link to join ouo.io for free. The best thing is you don't even need any site to get started.
[maxbutton id="1″ url="http://ouo.io/auth/signup" text="Join ouo.io Free Now & Earn Money" ]