There are many sources of traffic you can use to drive traffic to your campaign or landing pages. One of my favorites is the paid traffic.
I am not against SEO to drive free traffic but SEO is a marathon, not a sprint. And so, if you're looking for quick traffic then paid is for you. Also, if you're doing something wrong with the SEO then you never know when your site will be penalized or keyword ranking will be down. All these are not an issue with the paid source.
So, if you're also looking to get started with a paid traffic then this post is for you. Here I am going to talk about a push advertising network, Push.House.
Push House Review
Let's talk about the network for a bit and then we can talk about how you can join in this Push House review.
The network was started in 2018 and is one of the few networks working heavily in the push-based ad network. You may not find Push House mentioned in the generic push ad network because earlier the major ad buyer was Russian. But now they are global and across the world, advertisers are buying the traffic and ad slots.
As of now, Push House serves in over 180 countries with more than 300 million active subscribers. Currently, their major traffic source is push ads but expanding in other ad formats like- Progressive Web Apps (PWA), InPage Push, and Calendar notifications for iOS.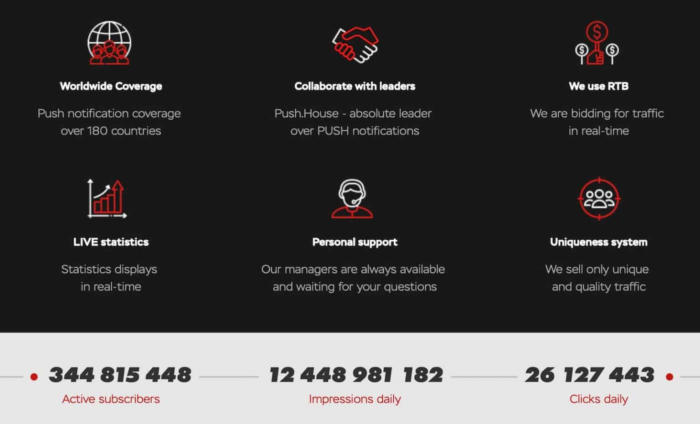 Push House Payment Methods
Push House allows you to add funds to your account by various means including- Master card, Visa card, Bitcoin, Webmoney, and more. The only additional method I wish to have here is PayPal and I hope in the future they may add PayPal as well. The minimum amount that you can top up in your account is $50.
Available volume and how to create a campaign?
In any advertising campaign, you must look at the available inventory to plan your budget and campaign well. As of now, there are four ad formats from which you can buy inventory as of now. Although a couple of those are pretty new and so not much inventory is available.
So, for now, a couple of ad formats I can recommend are- PWA and push notifications.
Once you login to your account, from the dashboard you can check the last 24 hours stats and plan accordingly. These stats talk about country, minimum & maximum price, and clicks from yesterday. These can give you a solid idea of what you should buy and from what location in what budget.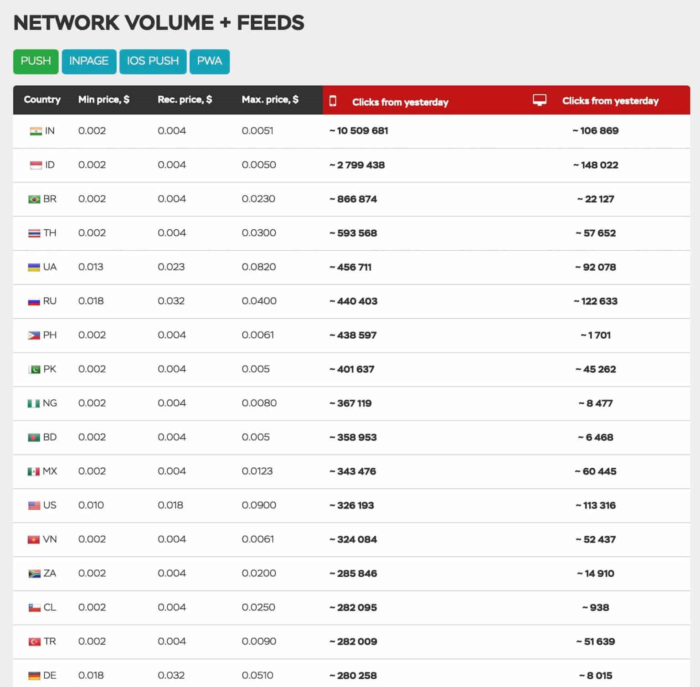 Once you have identified the inventory to buy, the next is to create a campaign. To create a campaign click on the left menu and select the desired ad format and then create a campaign. Here you need to enter some details like-
Title, Link which is your campaign URL, Geo, CPC, City, Devices, Subscription age, OS, Language, Creatives, and more.
The campaign creation screen will be like below-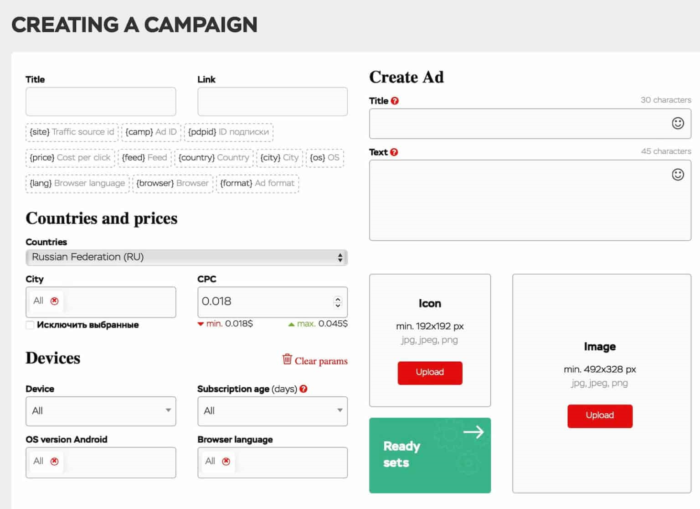 In the next steps, you can set the financial details to the campaigns. These include total budget, daily budget, total clicks, daily clicks, etc. These will help you plan your financials well.
Conclusion
These were all about Push House Review. If you're an advertiser looking to reach a global audience in the budget, I strongly recommend you checking Push House and enjoy the amazing quality traffic they offer.